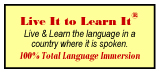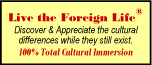 ⇒ ⇒  a new service ⇐ ⇐
Cultural Immersion
Parents & Children
Friends . Small Groups
⇒

school groups –
parents & children –
can be arranged

 ⇐
---
---
Available All Year
Friends, entire families, or just one parent and one child.
Note: Not everyone needs to take language lessons.
A service for people/families who want to study abroad together
but are of different ages,
have different interests and/or different levels of proficiency.
There are a number of options
(grandparents, friends, parents & children, etc.)
that are available during the SUMMER
or can be arranged ALL YEAR.
What can be done
will depend on many factors.
An Idea for Christmas:
Spend Christmas experiencing a traditional Christmas.
in your country of choice.  With… or without… language lessons.
Or Holy Week
Or just a traditional festival (national or religious) anywhere!
⇒⇒⇒ Appreciate the cultural differences while they still exist.

®
*** In order to help you,
We need to know the:
Age of the child/ren or pre-teens?

How many adults?

Preferred Accommodations: (homestay, hotel, apartment)?

Language of interest?

Country of interest?

Dates?

Length of Stay?

Will everyone be taking language lessons?  (not necessary)

What level/s are you?

If you are not interested in language lessons, what do you want to do?

What are your interests?
The more information you provide ….
——————-
phone calls are welcome
Phone: 786.216.7302