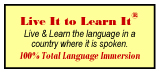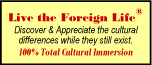 NEW
Family & Friends Study Abroad Service
… a new service being offered by FLSAS
WHAT
A service for those who want to study abroad together with
 family (with or without children)
or friends
and everyone has different needs (age, interests). 
Yes, there are programs that all can attend at the same time.
We will find what you are looking for.
We hope you believe there is a need for it.  Your opinion is appreciated.
What should be in the website?  Photos definitely, but photos of what?
Note: We cannot provide links to costs in advance.  Each situation will be different. 
WHY 

you need our service.
There are sooooo many options.
Many websites do not list all the possible options for different age groups.
Holidays (National or Religious)
Some programs are completely open during holidays.
Others have limited schedules.
This is information you need before you go especially if you go for a short period of time.
"Closed for the Holidays" has a different meaning with each program.
Some are completely closed.  Others are closed but lodging is available.
Others are closed but special arrangements can be made for certain activities.
Some have programs within programs.  Those are really confusing, even to me.
Some have cultural activities all year, others only during summer months.
You get the idea. 
You need someone who can find what you are looking for.  You need FLSAS' service.
=================================================
Family & Friends Together
Foreign Language Immersion
& Cultural Immersion
Study Abroad Service
adults without children

parents & children (of all ages)

aunts & uncles with nieces & nephews

just friends with their children
Summer & All Year
(including Holidays – Christmas & New Year's)
 There are a number of options for ALL
that are available during the SUMMER
and throughout the ENTIRE YEAR
including Christmas & New Year's
and local holidays.
Be there on important days/dates!
Local Fiestas / Religious Celebrations
Concerts / Fairs / National Holidays / Expos
Fun very local activities.  Go Local.
You need our service.
What can be done will depend on many factors.
*** In order to provide relevant information,
To Start With:
How many adults?  Age of Adults? (no upper age limit)

Age of the child/ren or pre-teens?

Preferred Accommodations: (homestay, hotel, aparthotel, apartment)?

Language of interest?

Country of interest?

City of Interest?
Cultural Interests?
Child Oriented Activities?
What do you like to do?

Dates?

Length of Stay?
——————-
Details. Details. Details. Etc.
phone calls are welcome
Phone: 786.216.7302
E-mail: LRH@flsas.com