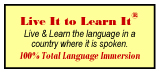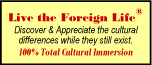 Family Foreign Language Study Abroad
Parents & Children Together
Summer & All Year
Entire families or just one parent and one child.
Excellent for HomeSchoolers & Parents.
There are a number of options for parents & children
that are available during the SUMMER
and some others can be arranged ALL YEAR.
Summer Study Abroad
Winter Study Abroad
Spring Study Abroad
Fall Study Abroad
What can be done will depend on many factors.
*** In order to provide correct information,
We need to know the:
Age of the child/ren or pre-teens?

How many adults?

Preferred Accommodations: (homestay, hotel, apartment)?

Language of interest?

Country of interest?

Dates?

Length of Stay?
——————-
phone calls are welcome
Phone: 786.216.7302
E-mail: LRH@flsas.com